Manga-Anime Hybrid in the Works: Chimamire Mai Love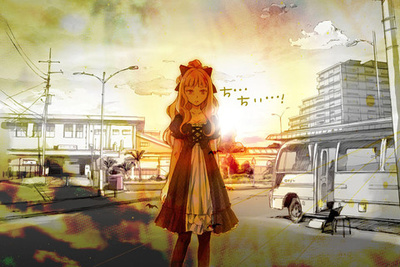 Now, hybrids aren't only half humans, half supernatural beings in effect. Hybrids also occur in mangas as well, just like these new series we're about to reveal to you. No, we're not talking about two different series melding into one jam-packed adventure. Through this article, we're dishing you out a little romantic story that is more than the usual. In this series, you'll be feasting your eyes on a beautifully crafted story work that combines the art of traditional with simple animation technique. It's art in the purest sense, only tossed in with some human absurdity in romance and a supernatural blood-sucking creature with a beautiful face!
Creative collaborators Oishii, Sasami-san's Hidari and Catblue:Dynamite's Higa come together to create a visually appealing series that is also noteworthy when it comes to plot. Just recently, the Japanese digital publisher Comic Animation has released information about this manga/anime hybrid creation: Chimamire Mai Love (Blood Stained Mai Love). This was through the Apple's App Store in Japan on Sunday.
Chimamire Mai Love focuses on a shy and timid second-year high school student who finds a warming companion in Mai, a mystersious girl he meets through a blood donation site. Mai is a pretty little blonde with doll-like features, set to conquer the heart of any boy. Unfortunately there is one problem: Mai Is actually a vampire, a true blood-sucking one, and the reason why she visits the blood donation site, is not to give it but to have some. Now, this comedy follows this boy's hilarious efforts to get blood donations for his young lady love.
This hybrid creation is created by Oishii, who is also directing it with the scriptwriter Kei Yamamura, character designer Hidari and the directors Uta Mizuno and Romanov Higa. Oishii is most known for the slapstic comedy series Urusei Yatsura. He says he wants to do that kind of atmosphere he has not done since the creation of this series.