Characters for Chū-2 Byō de mo Koi ga Shitai! Revealed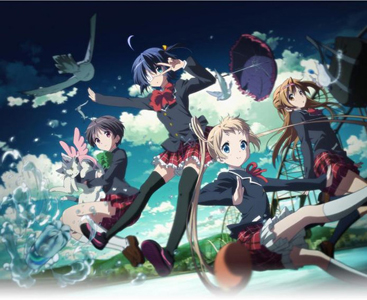 Last year, Kyoto Animation Studio (KyoAni) has confirmed of an anime adaptation for Torako's romantic novel Chū-2 Byō de mo Koi ga Shitai! (I Have Adolescent Delusions, However I Want to Fall in Love! ) is in the works. The official website has played a mock game and a teaser video, which greatly excited fans of the genre. This series has received an honorable mention in the Novel Category of the first Kyoto Animation Award in 2011. It must be known that no grand prizes are given to any of the categories.
Hikaru Ijouin, a comedian, has coined the term chou-2 byou, which can be translated as the middle-school second-grade illness. Apparently, this depicts the many adolescent thoughts growing teenagers usually have, most especially the illusions of success that one is more special than anyone else.
In the said series, Yuta Togashi takes the spotlight, a boy who used to suffer from this delusion. He meets Rikka Takanashi, a girl who is evident of the syndrome, whom he starts to date. While the young couple is in the middle of enjoying life to its fullest, Satone Shichimiya, also suffering from the disease, appears in their lives and turns it upside down. From then on many other strange adventures began to happen.
Just recently, KyoAni has unveiled the lead characters for the season's upcoming otaku series. In the role of Yuta Togashi is Jun Fukuyama, who has played the role of Lelouch in Code Geass and Yukio Okamura from Blue Exorcist. Yuta thought of himself as the Black Flame Dragon with a power unbeknownst to his classmates.
Yuri Amano plays the role of his mother, while Kaori Fukuhara plays Kuzuha Togashi, his sister. Mami Shitara is his other sister, Yumeha. Souichirou Hoshi plays the role of Mokoto Isshiki and Maaya Uchida plays the female lead, Rikka Takanashi. Other characters include Chinatsu Akasaki as Shinka Nibutani and Azumi Asakura as Kumin Tsuyuri. Sumire Uesaka also plays Sanae Dekomori.