Visuals and Characters for the Arpeggio of Blue Steel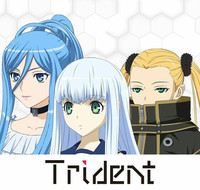 The production company managing the upcoming animation of the Arpeggio of Blue Steel is certainly unafraid to share a lot about this project. Constantly releasing teasers and visuals, Arpeggio of Blue Steel project owners are definitely letting the fans to get a bigger peek of what's in for them in this soon to be released anime. We think it's just noteworthy to give a handful of previews and visuals for this title; not to mention their efforts to make this anime land in a sea of success!
For the voice cast, the website lists Kazuyuki Okitsu as Gunzo Chihaya, Mai Fuchigami as Iona, Manami Numakura as Takao, Hibiki Yamamura as Haruna, Yumi Uchiyama as Kirishima and Yukana as Kongou. The voice actresses Manami, Hibiki and Mai have teamed up in a trio to become the pop unit Trident aimed for the series. They'll be appearing with the singer May'n and Takeshi Washikazi on Denpa Intelligence Agency on Nico this September 5th. More than acting, they will be singing the series' ending theme which will be released on the 30th of October.
If you're still at lost at what Arpeggio of Blue Steel is all about, we're giving you a bit of its plot:
Because of the global warming and the rising sea levels of the early 21st century, humanity has lost a lot of the earth's land mass. At the same time was the appearance of the "Fleet of Fog," a fleet of powerful sentient ships of unknown origin. It is armed with advanced technology and weapons, easily vanquishing the world's naval forces. The fleet imposes a worldwide naval and aerial blockade; preventing any one from travelling across the seas.
Seventeen years after the blockade, Gunzo Chuhaya appears as the captain of the Blue Steel fleet; the only crew which possesses the only Fog submarine which defected to human side. This is I-401, and also comes by the name of Iona. A girl.
Some character visuals: