Char Zakur Cake Set Available For The Holidays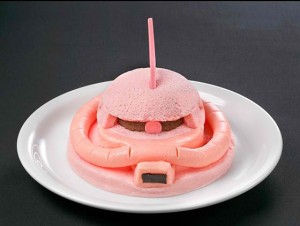 If you're a Gundam (ガンダム) fan, this will be a holiday treat for you. Bandai Premium has started accepting pre-orders for the Char Zaku Cake Set.
The Char Zaku Cake Set is inspired by Char Aznable's (シャア・アズナブル) MS-06S Zaku II Commander Type. If you've been a hardcore Gundam fan, the MS-06S Zaku II Commander Type was what Char used in order to fight against Amuro Ray (アムロ・レイ) who used an RX-78 Gundam in the first Gundam series.
The Char Zaku cake is baked to perfection by a Nagoya-based Western confectioner store, Yellow Pumpkin. The chocolate mousse-filled strawberry spongecake comes not only with a red 16 cm plate but also with a golden fork that has Char's emblem at the tip of the handle. The red plate is designed with golden borders and the middle of the plate is yet another printed golden emblem of Char's. Surrounding the emblem are the words "Principality of Zeon" with Char Aznable's name on the bottom. The cake is intricately designed based on the MS-06 Zaku II's head.
This awesome cake set is priced at 4800 JPY (4.91 USD) and will be shipped in the middle of December, just in time for the holiday season!
Ready to place your order? Visit the Bandai Premium page now!