Cat's Eye Manga Remake Will End Soon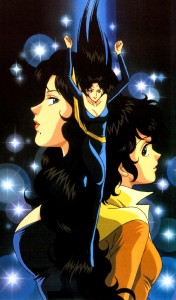 Tsukaka Hojo's (北条 司) trio of sexy, leotard clad girls called Cat's Eye (キャッツ♥アイ) had received a manga remake but the series is coming to an close. Released on October 25, 2010, Shingo Asai took care of the art while Sakura Nakameguro was responsible with the scenario. Both artists worked closely with Hojo. The "ai" part of the original title was changed to another character read as "ai" but means love, getting this as the final result: キャッツ・愛.
The news of the ending of the Cat's Eye manga revival was announced on Comic Zenon and will be published on the March issue of Monthly Comic Zenon magazine.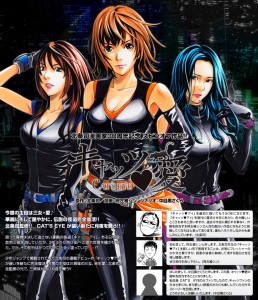 In Cat's Eye, the Kisugi sisters are cafe owners by day and thieves at night. However, they are not your ordinary art thieves – they only steal the artwork of a renowned artist named Michael Heinz (ミケール・ハインツ) who happen to be the father of the girls. Hitomi Kisugi (来生瞳), Ai Kisugi (来生愛) and Rui Kisugi (来生泪) hope to find their father again by getting the clues from his works of art.
The date of release for Comic Zenon's March issue will be on January 25, 2014. Don't miss out on the final caper tales of the Kisugi sisters!
In the mean time, here's a little something to induce some nostalgia for Cat's Eye fans…
http://youtu.be/Ufo-0rvE6bM