Cast for Upcoming Mangirl! TV Anime Revealed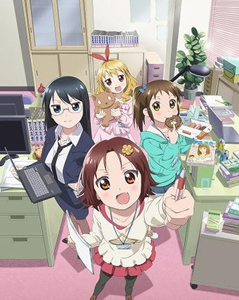 Asgard Anime had recently shared all about Kagari Tamaoka's Mangirl! manga to be adapted into a 2013 television adaptation. And now, we're bringing you the latest update about this cute and adorable comedy series which was first founded on a four-panel comic. An official website for this television anime adaptation had just revealed the staff and main cast for Mangirl! and this includes plenty of known names in the Japanese animation business.
Eureka 7: Astral Ocean's Naru Kanako Miyamoto, also known in her role as Meido in the movie project Fuse Teppo Musume no Torimonocho will take the lead as the innocent, bubbly manga editor-in-chief, Sasayama Hana. The other members include Aki Torii voiced by Yuri Komagata, Tsugumi Haraki by Moemi Otaka, Ringo Nishijima by Ayaka Ohashi, Shinoby Fujimori voiced by Ai Kayano, Sayuri Misono by Ayana Taketatsu, Hikari Ayano by Eri Kitamura and Kiiro Sakuradai by Aoi Yuuki.
The official website has also revealed that Nobukai Nakanishi, known for his works Shin Koihimi Muso and Kasimasi, Girl Meets Girl series, will be directing at the studio Dogakobo. Masahiro Yokotani and Reiko Yoshida will write the script for the series. Yoshida will also be in charge of the series composition, and serving as the animation director is Yuruyuri's Shinya Ojiri.
The theme songs for the anime will be performed by the voice actresses Muyamoto, Komagata, Moemi and Ohashi. The tracks will be under the group name M@N☆GIRL! The song is titled "girl meets DEADLINE."
Mangirl! is the story of Japan's cutest manga editors, who have yet zero experience in their work. they attempt to launch the number one manga magazine in the world, and the series follows the droll yet charming daily life of Hana and her friends.
The series has been created by Yasu, and the anime will premiere on Japan this January 2, 2013.