Cast for Library War Live Action Film Revealed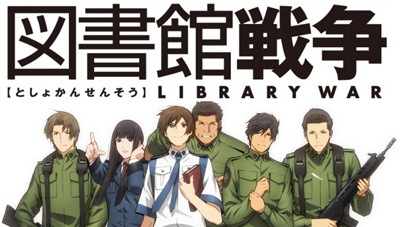 The live action adaptation for the anime project Library War has revealed a stellar cast for its film feature. Chiaki Kuriyama, Koji Ishizaka, Kei Tanaka, Jun Hashimoto, Nomi Nishida, and Sota Fukushi joins popular V6 Idol group member Junichi Okada and Nana Eikura in the said film. The additional cast was announced on Saturday, sparking interests of many fans who has grown to love this sci-fi anime series created by Hiro Arikawa.
Library War is originally a famous novel series dubbed as Toshokan Senso in Japan. The story was set in a future version of the country, wherein a new mandate threatens to shut down all freedom of expressions in 2019. However, lawmakers use this law in order to broaden their power and suppress their people. The heroine Iku, joins the Library Defense Force, which is a military unit committed to preserve the books from being confiscated.
Iku has long dreamed in joining the team, even in the days of her youth. However, she discovers that her lifelong desire is more difficult than she thought, especially with her very strict instructor, Atsushi.
Nana Eikura will play the lead role Iku Kasehara while Junichi Okada will play Atsushi Dojo. Chiaki Kuriyama is Asako Shibasaki, Ishizaka will play General Nishina, Tanaka will play Mikihisa Komaki, Fukushi will play the role of Hikaru Tezuka, Hashimoto in the role of Ryusuke Genda and Nishida will take the role of Maki Origuchi. The cast were all photographed in the series' costume in order to promote the film.
Gantz, Sand Chronicles and The Princess Blade director Shinsuke Sato will direct the film.
Library War has a series of 6 volumes and has sold over 2.8 million copies. This story has inspired two manga series, a television anime series, and this forthcoming live action film. The show will hit the local screens on April 27, 2013.