Cast and Staff for Majocco Shimai no Yoyo to Nene Movie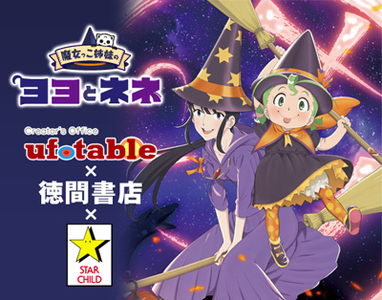 Magical girls, unite! We're off into something shining, sparkly, and all-time supernatural with the newest offering from UFOTABLE's production. Magic and beauty has always been a part of every girl's fairytale—young and old, and we can't help to bring up another dose of this storyline with an upcoming animated film called Majocco Shimai no Yoyo to Nene (Magical Sisters Yoyo and Nene).
In a world where magic and sorcery becomes a girl's skill, more than art or fashion, lives two sisters, Yoyo and Nene. This is borne out of the genius who brings a "traditional magical fantasy" story, UFOTABLE. They're the same production company who gave you Fate/Zero, Kara no Kyoukai ~ the Garden of Sinners, and Tales of Symphonia the Animation. The company collaborates with another well known studio, King Records' Starchild Label, who has produced Bodacious Space Pirates and Penguindrum. The story follows the two sisters who are both imbibed with great magical powers. Yoyo is a Great Picture Book Level witch, while Nene is the best Practice Book Level witch. They live inside a dense, mysterious forest where they run a famous store for their magical spells. Despite being young, both of the sisters are quite skilled; however, for some reason they always cause quite a problem!
The official website for the Majocco Shimai no Yoyo to Nene project has recently announced the film's main cast and staff. Sumire Morohashi of OniAi's Arisa and Ai Kakuma of Campione's Hikari Mariya will voice Yoyo and Nene respectively.
Takayuki Hirao will be directing the film. Yuka Shibata will be handling the character designs and will serve as the chief animation director. Takuro Takahashi will be the assistant director and Mikaku Komatsu will perform the theme song for the film.
UFOTABLE has previously announced this project as a tentatively-titled Majocco Classical back in the Machi Asobi event in October 2012.