BTOOOM! Manga Gets Anime Adaptation; Anime Promoted With Sultry Collectibles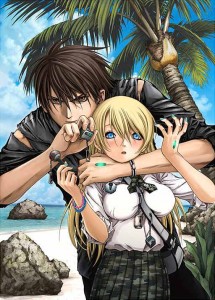 Japanese animation studio, MADHOUSE Inc. (株式会社 マッドハウス), confirms news on adapting Inoue Junya's manga "BTOOOM!" into an anime series. The ongoing manga series tells the story of Ryuuta Sakamoto. Sakamoto is 22-years-old, unemployed and he lives with his mother. He may not be so special in real life but is otherwise so in the realm on online gaming where he reigns supreme as the top player in the video game BTOOOM!.
Things suddenly change when he wakes up in an island without any memory of how, or even why, he got there. Sakamoto wanders around the island until he saw someone and he asked for help. The person whom he seeked for help, however, threw him a bomb. Sakamoto then realizes that he is living the real-live version video game he is so good at.
The anime version of BTOOOM! will be directed by Kotono Watanabe, written by Yosuke Kuroda and designed by Takahiro Kishida.
While waiting for the anime to be released, fans of the manga will not be disappointed. There will be an exhibit for the manga will be held at the Hiros Entertainment Yard in Akihabara on July which will include an autograph signing session with none other than Inoue Junya himself!
Don't know what item you're going to have signed? Not to worry, BTOOOM! merchandise are available for online purchase, nearly all of them starred by the sexy Himiko. The latest items added to the BTOOOM! collection are the double-sided towel and the waterproof bath poster.
Visit the Shincho Shop website for more BTOOOM! collectibles and check out the official BTOOOM! Anime website for more news on the series.