Brand New Durarara!! Anime Promoted With Chocolate Pixel Art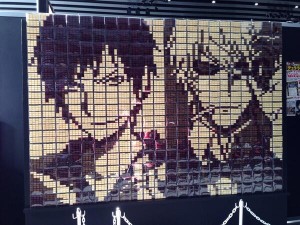 Morinaga & Company (森永製菓株式会社) has done it again! Last month they created a pixel art using their best selling confection called DARS chocolate of Keigo Atobe (跡部景吾) from the Prince of Tennis (テニスの王子様) franchise and now it's Durarara!!'s (デュラララ!) turn to have its own chocolate pixel art.
Durarara!! began as a light novel released on April 10, 2004. The light novel series has a total of 13 volumes written by Ryohgo Narita (成田 良悟) and illustrated by Suzuhito Yasuda (ヤスダ スズヒト). On April 2009, a manga version of the light novel was published in Square Enix's (株式会社スクウェア・エニックス・ホールディングス) Monthly GFantasy (月刊Gファンタジー). More than a year later, the first anime version of Durarara!! was released thanks to Brain's Base (ブレインズ・ベース) which ran for 26 episodes.
The brand new Durarara!! anime is bringing back the folks that did the first Durarara!! in 2010. Takahiro Omori (大森 貴弘) is back in the director's chair as the series director with Noboru Takagi (高木 登) and Takahiro Kishida (岸田 隆宏) on writing and design duties respectively. Makoto Yoshimori (吉森 信) is also in on the team once again for the anime's soundtrack. The brand new arc of the Durarara!! light novel series is set two years after the first series and will go with the title of Durarara!! SH.
The chocolate pixel art features Shizuo Heiwajima (平和島 静雄) on the right and Izaya Orihara (折原 臨也) on the left. It was unveiled during the Dengeki Game Festival 2014 in Akihabara, Japan.