Prince Of Tennis Pixel Art Made Out Of Chocolate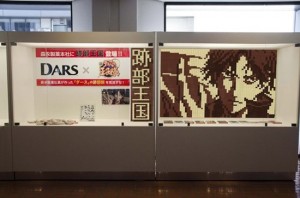 Be awed at the sight of my prowess! (俺様の美技に酔いな!)
When food is used to create outstanding art, the result becomes so awesome that you might have second thoughts about eating it. Japanese confectionery company Morinaga & Company (森永製菓株式会社) did just that and created a pixel art of Keigo Atobe (跡部 景吾) from Takeshi Konomi's (許斐剛) hit anime/manga franchise, Prince of Tennis (テニスの王子様).
Using their famous snack item, DARS Chocolate, the Morinaga & Company's art squad transformed the colored still of Atobe to pixelized form using bars of milk chocolate, white chocolate and bitter chocolate. Aptly named D-Art, over 4,000 pieces (4,176 pieces to be exact) or 348 boxes of DARS chocolate have been used to create Keigo's pixel photo. This delectable piece of art is put on display at the second floor lobby of Morinaga & Company's head office until March 28, 2014 only. Junichi Suwabe (諏訪部 順一), Atobe's voice actor, has his signature placed on a card right beside the chocolate art.
Keigo Atobe is the captain of Hyoutei Academy Secondary Department's (氷帝学園中等部) tennis team. Atobe, who is vain and arrogant, has every right act just like that. After all, this wealthy lad was a former junior champion in Europe and he ultimately gained the respect of his peers (not to mention the popularity that goes with it) after he defeated all the members during his first year as well as the Seigaku's (青春学園) very own team captain in his second year.
A 2-minute video has been shared via the Morinaga & Company's official Youtube channel. Watch the video below and you just might be inspired to create your own D-Art!
http://youtu.be/0iDnRi8UikE