Boku no Imōto wa "Ōsaka Okan" Premieres as Animation Short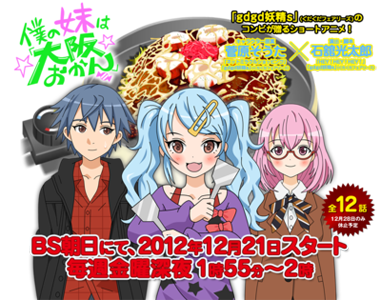 Animation, no matter how long or short, has always made it to the hearts of fans. We've been enamored by the many lengthy, popular series, but we're also surprised to see that even anime shorts can get the spotlight for a few minutes and totally win us over.
This project is no exception. Sota Sugahara and Kotaro Ishidate, the two collaborators who are in the success of gdgd Fairies CG animation season, are joining hands once again for a television anime shorts that will start this December 21. Sota Suguhara is a director / designer and Kotaro Ishidate is a writer. The two will put their talents to create an interesting new short series called Boku no Imōto wa "Ōsaka Okan."
Ishidate will write the series while Suguhara will create the original character designs. The artist Pikomari will adapt Suguhara's illustrations for animation at the Flash studio Charaction.
Boku no Imōto wa "Ōsaka Okan" (My Little Sister is an Osaka Momma) is adapted from Chukei Shuppan's novel, Osaka Okan Rule. This comedy light novel series highlights the Osaka Rule books that offer a guide to dealing with people from this popular region in Japan. The stereotypical Osaka mothers takes a big wary on this guidebook, however, as this anime suggest.
In the story, Kyosuke (voiced by Ryoko Shiraishi) has spent about ten years of living apart from his younger sister Namika (Kana Asumi). Kyosuke is now anticipating his reunion with his sister as they live together again, but meeting her, he discovers how greatly she has changed. Yuka Iguchi plays Kaede, Namika's classmate.
Boku no Imōto wa "Ōsaka Okan" will run for 12 episodes, and will premiere on the BS Asahi channel on December 21. The series will run every Friday after midnight, starting from 1:55 AM to 2:00 AM, except for December 28.