Bodacious Space Pirates Does The Uncle Sam In Cospa Shirt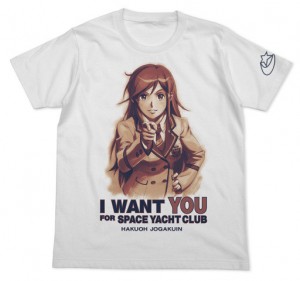 Remember the recruitment painting done by Gruier Serenity (グリューエル・セレニティ) in the anime film Bodacious Space Pirates: Abyss of Hyperspace (モーレツ宇宙海賊 ABYSS OF HYPERSPACE -亜空の深淵-)? Thought it was pretty cute wasn't it? You can now own it for yourself that's immortalized in a shirt thanks to Japanese clothing company, Cospa (コスパ)! The latest goodies added in the Nijigen Cospa list are the Bodacious Space Pirates (モーレツ宇宙海賊) items based from the Abyss of Hyperspace film which was released on February 22, 2014.
The shirt's design happens to be the space yacht club recruitment painting that is a parody of the famous Uncle Sam "I want you for the U.S. Army" recruitment poster. The shirt colors is white and comes in 4 sizes namely small, medium, large and extra large. The I Want You For Space Yacht Club shirt is priced at 3,132 JPY (30.81 USD).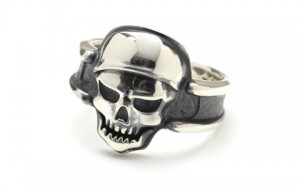 The shirt isn't alone – customers can also purchase a silver Bentenmaru (弁天丸) ring complete with the motif of the Bentenmaru: a skull wearing a bandanna with a string musical instrument. This design is based off from the ID that controls the Bentenmaru. The Bentenmaru ring goes for 15,120 JPY (148.89 USD) which you can get here.
Which of the Bodacious Space Pirates items will you be getting?