Blonde Bomb Nina Williams Kotobukiya Figure Released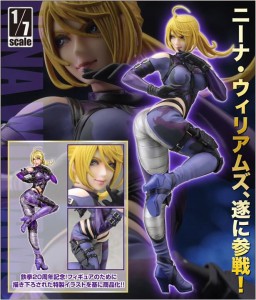 A lot of Tekken (鉄拳) hotties have already graced the figures of Kotobukiya's (株式会社 壽屋 コトブキヤ) Bishoujo line and now it's the original Tekken babe Nina Williams's (ニーナ・ウィリアムズ ) turn!
Set at a 1/7 scale and standing at 21 cm tall, Kotobukiya's Bishoujo take on Nina Williams was based on the artwork done by Shunya Yamashita himself. Nina's Bishoujo statue comes in her signature blue and purple combat suit as popularized in Tekken 5 (鉄拳5). If you play Tekken using Nina Williams, her pose will look familiar as well. Kotobukiya has outdone themselves with the Nina Williams statue as every minute detail can be seen from creases in Nina's costume to her well-defined muscles.
Nina Williams is one of the few characters who have appeared in the series starting from the very first Tekken. Hailing from Ireland, Nina is the daughter of renowned assassin Richard Williams whom she learned her assassination skills from. She is known for her never-ending, not to mention highly violent, rivalry with her sister, Anna Williams (アンア・ウィリアムズ). Nina and Anna are known for their eternal youth despite their real age as both sisters underwent cryosleep. Without her consent, Nina was impregnated and soon gave birth to British boxer, Steve Fox (スティーブ・フォックス). In 2005, Nina got her very own Tekken spin-off game called Death by Degrees.
Complete your Tekken Bishoujo statues by grabbing Nina! Nina goes for a price of 7,776 JPY (76.75 USD). Check out the official Kotobukiya Facebook Fan Page for more photos.