Bleach Anime About to End from NTV Timeslot, Replaced by Rock Lee Special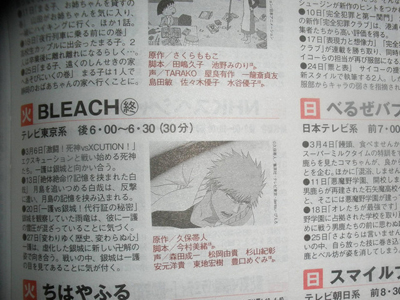 Fans will be in shock, but Ichigo's journey of being a substitute shinigami is about to end on TV. It seems like the battle against the Hallows are about to take its toll, as Bleach Anime adaptation is scheduled to end this coming March 27. NTV states that the anime's episode 366 will be the last of the series to be shown this season, as a new Naruto spin-off series, focusing on Rock Lee (Naruto SD: Rock Lee no Seishun Full Power) is set to take over Bleach's usual time slot. It is still unknown whether the production is taking a hiatus or will proceed as OVAs, for the creators have still yet to conclude what to do with Bleach's case.
Followers of the series have been surprised at the story's end, announced on many forums and sites. Recently, Bleach Creator Tite Kubo has hinted that the popular manga may potentially come to an end with his upcoming arc—yet untitled. He defines it as a series longer than the Arrancar arc, with possibilities of it becoming Bleach 2, if readers' reception exceeds his expectations. These are all mentioned in Kubo's 2ch blog.
The anime has run for more than 350 episodes, starting off since 2004. It is launched along with another popular anime, Naruto; both which received popular attention for its unique characters and storyline. Fans, especially from 2ch, are regarding an excerpt from a newspaper as the evidence for the anime's final broadcast. They add that this is not a just a change in timeslot, or another method of rebranding.
Hiroki Takagi, Bleach Animation Director, posts this image to his twitter account, and his replies to other users suggest that this musing is indeed true.
On a side note, Bleach is currently getting attention due to a Warner Bros. announcement that it could also get a live action adaptation