Before The Hunger Games Came, There Was Battle Royale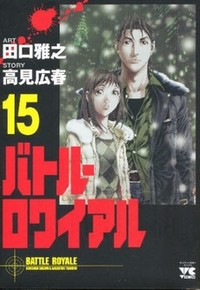 When the movie The Hunger Games came out in movie theaters, the internet exploded with rants, raves and comparisons. Die hard Japanese pop culture fans quickly labelled The Hunger Games a "rip-off" from a Japanese book that was not short of violence.
Originally published as a novel in 1999, Koushun Takami wrote "Battle Royale" (バトル・ロワイアル). The book was a hit and was translated into several languages including English, Russian, and Chinese just to name a few. The plot of the book was simple: a class of students are picked via lottery. They are then forced to fight each other until only one remains.
On November 29, 2000, a manga version of the book was released and was illustrated by Masayuki Taguchi. The manga had a total of 15 volumes and followed the novel faithfully. But as time passed, Taguchi added his own flair to the manga to which Takami appreciated. When December 16, 2000 came, a live-action movie version of the book was released that raised controversy beyond all others.
A class of middle school students were fooled into believing they were going on a class trip. They wake up inside a room where they were briefed about "The Program". Each one of them wore nearly indestructible electronic collars that detected their whereabouts that would explode if there were no sole survivors. Nanahara Shuya was a part of this unfortunate class and there were two other "exchange" students that got into the fray, and one of them happened to be a survivor of the previous game.
Thanks to The Hunger Games, DVD sales for the live-action version of Battle Royale has gone up. Both stories are great on their own ways, whether it be the books or movie takes. But the edge Battle Royale has over The Hunger Games is its power to bring out our deepest, most primal fears.