Atsuko Nanba's "Sprout" Takes a Live Action Spin-off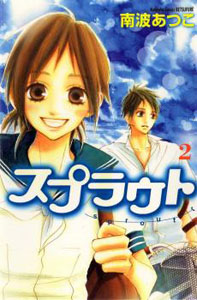 Japanese local channel Nippon Television Network (NTV) has announced details about their upcoming series, Sprout. Taken from a manga with the same title, this live action series will featured Chinen Yuri from Johnny's Hey! Say! Jump! Chinen will be playing the role of Souhei, a boy in his high school year who is set to be entangled with a complicated love story along with the heroine.
Aoi Morikawa will play Miku Ikenouchi, the female lead of this upcoming drama. The story begins with Miku having a perfectly fulfilled life—she is pretty, does great in school, works in decent part-time job, has a wonderful boyfriend, a happy family with a big house to live in. Her classmates envy her of having the best in her teenage years, to which she accepts with skepticism. Her perfect life changed suddenly when her parents decided to turn their home into a boarding house, accepting strangers, to which one of them is Souhei.
While Miku is content with her life, she soon experiences a great change ever since the borders came to her home. Her father has quit her job and as it turns out, Souhei also goes to the same school with her. Now, her peaceful life ends as she gets a haywire of problems, secrets and youthful affections which places her in an awkward situation—fa;;ing in love with Souhei, who also has a boyfriend. Now what will Miku do?
This romantic drama becomes an interconnection of relationships. Sprout also includes Lewiss Jesse, Kentaro Yasui and Yuuta Junguuji. Trailers have featured many of its actors' first kiss scenes.
Sprout is a manga serialized in Bessatsu Friend Magazine, a Kodansha publication. It has seven volumes overall, to which the last one has been published in 2008. Sprout has sold over 3 million copies.
The live-action will be aired in July 7 on NTV.