Atelier Shallie Gets Two Special Editions For Fans To Choose From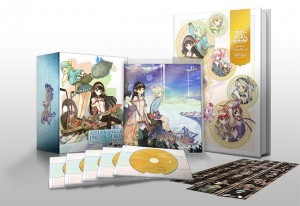 With the latest installment of the Atelier (アトリエ) series, Atelier Shallie: Alchemists of the Dusk Sea (シャリーのアトリエ~黄昏の海の錬金術士~), due for release on July 17 in Japan for the Sony Playstation 3, a slew of special edition sets are introduced to suit the player's fancy. First off is the Atelier Series BGM Pack which comes with the first-print versions of the Japanese games. This comes in a download code and it allows players to choose from over 700 songs to play in the background of some scenes they enjoy. The Atelier Series BGM Pack is also present in not one but two Special Edition versions of the game!
The first of the two Special Edition packages is the Premium Box. The Premium Box comes with the 20th Anniversary Atelier sound set. The sound set celebrates the game's music with a 2-disc song collection, two single cds of the BGM collection and an arrangement of the Atelier music. A sequel drama of Atelier Escha & Logy (エスカ&ロジーのアトリエ~黄昏の空の錬金術士~) is also included in the pack.
The second Special Edition set is the 20th Anniversary Memorial Box. The 20th Anniversary Memorial Box comes with every single CD found in the Premium Box but two more items can be found in the Memorial Box, namely the 20th Anniversary character film set and the 20th Anniversary Atelier visual collection book.
The Premium Box is priced at 9,800 JPY (96.20 USD) while the Memorial Box goes for 12,800 JPY (125.70 USD) with the latter available for purchase over at the Gust Shop.