Asgard Anime Vault: Jigoku Sensei Nube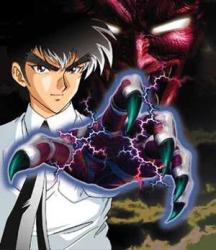 The Asgard Anime Vault celebrates old school anime that certainly made every 90's otaku proud have lived those years as well as introduce young otakus to these great titles. This week, Asgard zeroes in on a Jigoku Sensei Nube.
Jigoku Sensei Nube (地獄先生ぬ〜べ〜) or Hell Teacher Nube tells the story of Meisuke Neuno, more commonly known as "Nube". Nube works in Doumori Elementary as a school teacher. This happy-go-lucky instructor loves his job and is does a very good job at doing it. Teaching, however, is not just his day job. Nube also happens to be a powerful exorcist; he uses his abilities to protect his students from different otherworldly encounters. Nube uses an array of instruments to fight against demons such as a crystal ball and the Sutra of the White Robed Goddess (白衣観音経) but his most powerful weapon is his Oni No Te (鬼の手) or the Demon's Hand.
Jigoku Sensei Nube first came out as a manga in 1993. Written by Sho Makura and drawn by Takeshi Okano, this horror-comedy manga ran for 6 years, beginning from 1993 to 1999. It has a total of 31 volumes and has gained a spinoff manga entitled "Izuna the Spiritual Medium" (霊媒師いずな). The anime version of the manga came out in 1996 with a total of 48 episodes. This was then followed by a three episode OVA as well as three different anime films.
Jigoku Sensei Nube is an ideal treat for horror junkies who would enjoy a mad touch of laughter. This anime is also for those otakus who are into Japanese mythology and folklore.
What and how did Nube obtain his Demon Hand? Why did he choose to become a teacher? Who will he be dating in the end? To find out the answers, check out Jigoku Sensei Nube. This anime may even teach you a thing or two about what your real life teacher might actually turn out to be.