Armed Middle School Student Basket Army Animation Revealed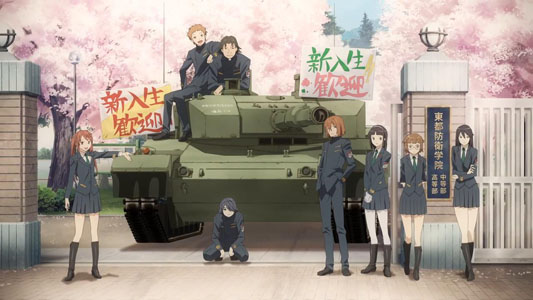 Short anime clips of Armed Middle School Student Basket Army have been streamed through its official website. These trailers feature a four-minute short films which has been released slowly by the project studio, creating much anticipation. Written by Kazushige Nojima, Armed Middle School Student Basket Army (Busō Chūgakusei Basket Army) is an endearing yet action-packed fiction set forth to an animation debut this year. Nojima is known for being a game scenario writer, greatly associated with his contributions for role playing games Kingdom Hearts, Final Fantasy VIII, X, X-2 and Versus XIII.
However, Nojima sets this plot in the month of August, fast forward to the year 2026. Staged in the Fuji Training Facility, middle school students, instead of taking regular lessons from normal subjects, attend classes for the Eastern Defense Academy. This extraordinary class was established by Japan as a private organization under the National Defense Education in 2024. Created to train young children in the skills of the battle, the middle school students are about to engage in a fight to which no one in their age has ever hoped for.
The story follows Tokou Natori, a third year middle school student. During the last day of their difficult training regimen, a situation occurs which turns their regular class into a warzone. The short films which has been consecutively released gives a glimpse on what is to happen at the particular scenario as an enemy company sets a siege on the school.
Duel Masters Card Game director Atsushi Kawasaki heads the art, Mitsudki Akashikurasu designs the characters and tomokazu Nakano has given contributions for concepts. Kenji Kawai, who served in Ghost in the Shell and Death Note, composes the music. Romanov Higa directs and heads the storyboard of the animation within the studios ASREAD and Studio RF. The voice cast includes Ami Koshimizu, Mana Hirata, Suzuko Minori, Shin Furukawa and Nobita Hasegawa.