Arata Naru Sekai Project Revs Up for a Multimedia Franchise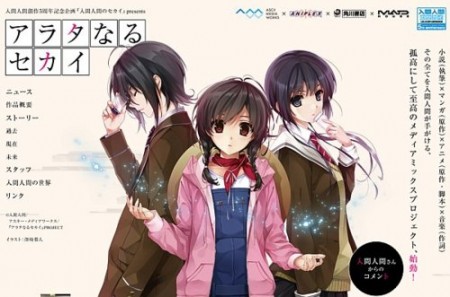 Studio ASCII Media Works has recently announced in their Dengeki Bunko press that writer Hitoma Iruma will launch a new project called Arata-naru Sekai (A New World), a multimedia franchise topped with an animation version. Iruma will be heading various roles for this release, including the writing of the novel version, creating the plot for the manga version, scripting the animation and writing the lyrics for the music to be used for the whole franchise.Kadokawa Shoten, Aniplex, Madhouse and Ascii Media Works will join forces together in producing this project. The plot, which is to be divided into the past, present and future, will be delivered in various media—a novel, a manga and an animation.
This huge project is said to celebrate Iruma's fifth anniversary as a professional writer. He is also known for his previous work, Uso-tsuki Mikun to Kowareta Maa-chan. Iruma is said to be collaborating the illustrations with Kendi Oiwa, creator of Tsukumo Happy Soul and Goth, and Kurehito Misaki for the novel. Studio Madhouse and Animplex Production will handle the animation, with Satoru Kousaki for the musical composition.
Staged in a world where population has been greatly reduced, Arata-naru Sekai trails after a narrative of a "time researcher" and a few remaining children. Whereas time travel has been finally successful, the young boys and girls are sent into different times in order to save the human species from extinction. With this, schools have been plagued with various lessons regarding time travelling skills and aptitude tests. The results will show the students who will be eligible to go to the past, future or remain in the present time.
The three media divisions will tell the tale of the three time eras. The future travelers are depicted into the animation, those who decided to go to the past are narrated through a manga, and the children who stay in the present are depicted in the novel.