Aoki Hagane no Arpeggio Slated for TV Animation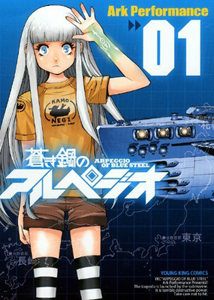 The 7th volume of Ark Performance's Aoki Hagane no Arpeggio (Arpeggio of Blue Steel) has announced that a television anime adaptation has been green lit for the story. The science fiction naval manga is just a fairly recent release, yet it has garnered the attention of manga and mecha fans alike.
The story focuses on a natural setting, where the global warming has raised the sea level. A mysterious group called Fleet of Fog suddenly appears all over the world. This dangerous mass is composed of archaic looking ships which carry super weapons to ensure that humans will not be able to step into the oceans. With this threat, the world's navies put together its force to ward off the enemy, only ending up in annihilation. Not being able to withstand them, the human race could no longer travel the seas.
The story is set seventeen years after the war. Japan's fortunes have gone downhill—it solely relied on importing and exporting for raw materials in order to boost its economy. Without this barter, the nation will fall into debt. The economy has been unstable and poverty surged. Despite this hopeless state, there came one home—the Blue Steel.
Led by Gunzou Chihaya, this Fog submarine was acquired and was renamed I-401. With a bunch of ragtag misfits for a crew, Chihaya is the only one who can claim defeating a Fleet of Fog ship. Unfortunately, the I-401 has more enemies than just the Fogs. The government is bent on getting their hands on this ship. Many of the world's government look upon I-401 as something they could snatch for them to regain their power. But what nobody realized is that I-401, just like most of the Fleet of Fog ships, has a mind and body of her own.
Seiji Kishi will direct the anime at SANZIGEN Animation Studio. Makoto Uezu will handle the series scripts and Masato Kodo is composing the music.