Anime Adaptation of Robinson Haruhara's Senyuu Revealed in Teaser
Niconico, Japan's most popular video streaming website, had just began streaming a 20-second promotional teaser for the television anime adaptation of Senyuu, Robinson Haruhara's fantasy battle comedy manga. The video is composed of JAM Project's song, the Monsters, which is used as the opening theme for the series. The group is also performing the ending theme song for the anime, "Believe -永遠のリンク-"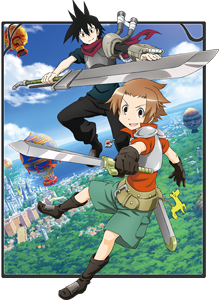 Senyuu is all about adventure, battles, and of course, droll situations which makes the funny characters even more humorous. In the story, a mystical gigantic hole had suddenly opened up in the world one day. This hole became a passageway to demons who then appeared everywhere. The king thinks that this occurrence is the return of the demon king Rukimedesu, a strong villain who was sealed away by a great hero Kureashion a million years ago.
Thus, in order to world and all of the living, the king has decreed that every descendant of this hero must take on the threats of the demons. 75 people showed up, claiming they came from the roots of Kureashion. Hero #45, Aruba and a sadistic palace warrion named Rosu teams up, and thus their journey begins.
Yutaka Yamamoto, known for his contribution in the Melancholy of Haruhi Suzumiya, will be directing the series at his studio Ordet and LIDEN FILMS. Michiko Yokote will be in charge of the series scripts and Ushio Tazawa will be designing the characters.
The cast includes Hiro Shimono, who will play the role of Aruba, and Yuichi Nakamura, who will play the role of Rosu. Ai Kayano will lend her voice as the character Ruki, while Kenichi Suzumura will voice Foifoi. Jouji Nakata plays the role of Rudolf and Emiri Kato is slated to play a character which name is yet to be revealed.
Senyuu series will be of an anime shorts type, and will premiere on TV Tokyo on Wednesday, January 9, from 1:35 to 1:40 AM.