Anime Promo for I Wanna Be! Manga Streamed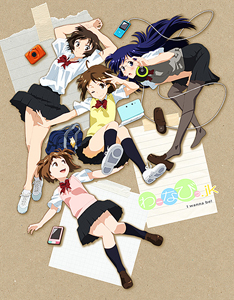 Animation production company Studio DEEN has produced a cute anime promotional teaser for the upcoming four-panelled manga I Wanna Be! (Waanabi.jk), offering a video on a DVD made available at Comic Market next month. The manga fosucses on the weekly slice of life series created by Kenichi Kuroi. It narrates the dreams and aspirations of 4 third-year high school girls attending a private school.
An animation teaser for a manga? No doubt we'll be seeing this title as an anime real soon. Meanwhile check out the cute characters in the story:
Moraru Takatsuki is voiced by Shiori Mikami. She dreams of becoming a charismatic and popular idol.
Yumi Torii, played by Haruka Terui, still has yet to know what the future is for her.
Sora Tokui is Ami Yanagisawa, and she dreams of travelling around the world as a freelance photographer. I think many are aspiring with the same dream as hers too!
Mutsu Sasanaka is voiced by Aina Kusuda, a girl who wants to land a job at the famously listed company after studying college.
The project was conceptualized by Tomoya Takahashi, who also serves as its sound director. Tetsuya Takeuchi, dubbed as the "Super Animator" has designed the characters.
Studio DEEN will be offering the DVD along with an art collection booklet. A drama CD by Katsuhiko Takayama is scheduled to be sold alongside it. Other than the PV, the DVD will also have a roundtable discussion by the cast.
This project will also feature the theme song one by the Vocaloid Aoiki Lapis, along with her real life voice Nako Eguchi. The 40-page booklet will be consisted of 4 paneled strips, with the key animation drawings from the promotional teaser, production designs, cast comments, and a cover art by Kuroi. The cast will be appearing at the Studio DEEN booth at the upcoming Comic Market on August 11 and 12.