Anime/Manga Inspired Food News: The Thousand Sunny Christmas Cake, Gundam Tofu And The Eva Discount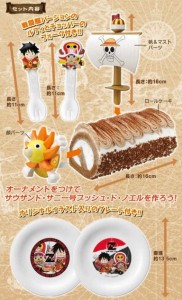 Food inspired by anime and manga only makes life for a hardcore anime/manga fan even more memorable. Asgard brings you a few food items worth digging into, starting off with the One Piece Thousand Sunny Christmas cake.
A lot of anime and manga franchises have already started to advertise their Christmas cake offerings and One Piece (ワンピース) is just one of the many. This Thousand Sunny (サウザンドサニー号) inspired Bûche de Noël comes with a pair of plates and sporks, all adorned with One Piece characters Monkey D. Luffy (モンキー・D・ルフィ) and Tony Tony Chopper (トニートニー・チョッパー) in their One Piece Film Z uniforms. Bandai Premium has been accepting pre-orders for this delectable chocolate cake since October 2, 2012 for only 3360 JPY (42.95 USD). Order your Thousand Sunny Christmas cake to make your holiday even more special by clicking here.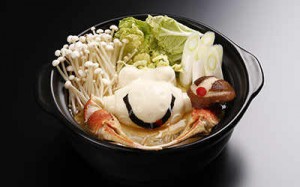 Thanks to Sagamiya Food, kids (and maybe a few adults) can learn to appreciate eating their vegetables with these awesome Z'gok shaped tofu! These artistically shaped Gundam tofus are perfect for crab pots and other tofu recipes. Still need convincing on letting you eat your greens? There's also a Zaku shaped vanilla flavored dessert waiting for you. Visit the Sagamiya website for more info of their Gundam inspired tofu and don't forget to watch the video below.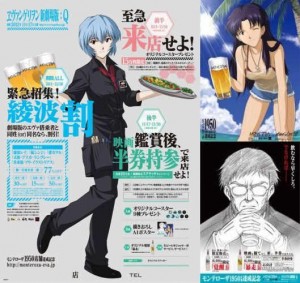 Finally, we have a Neon Genesis Evangelion (新世紀エヴァンゲリオン) promo that makes you wish your parents named you Rei Ayanami (綾波 レイ) instead. Monteroza is celebrating their 1950th store by having a collaboration with Neon Genesis Evangelion. Starting on October 1 until November 30, Monteroza has special discounts and other offerings to give to patrons as the days progress. The first special discount is sharing the same name with any of the five (5) Eva pilots. Click here for more information about this awesome Evangelion event.