Anime Adaptation of Light Novel Kokoro Connect To Air this Spring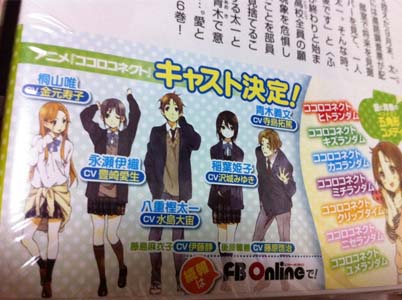 Written by Sadanatsu Anda and illustrated by Yukiko Horiguchi / Shiromizakana, light novel series Kokoro Connect (ココロコネクト) is set to hit Japan's local television this coming spring.
As highlighted in the stage event at the Anime Contents Expo, a promotional video was released, hinting about the new animation series which will be aired during summer. The series is animated by known studio Silver Link, which has produced the series Tasogare Otome x Amnesia among its roster of animes. Shin Oonuma spearheads the direction with Shinya Kawamo. The musical and series composition is done by Fumijiko Shimo, while Toshifumi Akai created the character designs. Toshiki Kameyama finishes off the line of staff as the sound director.
Kokoro Connect is a brilliant novel which was first published in 2010. Overall, there are 7 volumes in this series, all released by the production house Enterbrain by February 2012. The story concerns the five main leads: Yui, Iori, Taiichi, Himeko and Yoshifumi; all entangled together in a school cultural club which they are all members of. Because of a mystifying reason, the characters switch their bodies, ending up in a massive dilemma that reveals a new discovery about their individuality and personality, making them realizes the uniqueness of their own heart.
Playing as voice actors are Hisako Kanemoto (Squid Girl), Aki Toyosaki (K-On!), Takahiro Mizushima (Code Geass 2), Miyuki Sayashiro (Bakemonogatari) and Takuma Terashima (Milky Holmes). The plot centers on a love pentagon in the middle of the body-switching mishap. As a marketing promotion for this series, the production has released a congratulatory PV in the Anime Contents Expo. This will give its future audience an interesting glance about what's in store for them in this anime series. A PSP game has also been announced under the novel title.