Anime Adaptation for Gingitsune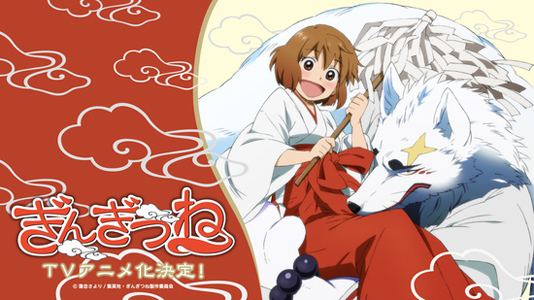 On Friday, the May issue of Shueisha's Ultra Jump magazine has announced that a new television anime adaptation is on a roll. This time, the project is based on Sayori Ochiai's Gingitsune manga, and it has been green-lit for production. Just recently, the official website for the project has opened and listed the staff along with the anime information. The staff includes Noboru Misawa as the director, Diomedea as the animation company, Hiroshi Yamaguchi as scriptwriter, Mayuko Matsumoto and Naomi Ide as character designers.
The story is set on a small Shinto harvest shrine and dates back to Edo Period. At this age, spirits and humans have been living long in harmony. A girl named Makoto Seki lives with her father, the head priest of the shrine, and has experience a good and peaceful life. However, she has a unique gift as she can see a kitsune (fox spirit) named Gintaro, who is actually a messenger for the gods. Well, she is the only one who is blessed to do that. Makoto develops a friendship with Gintaro, and the two lives close to each other. Makoto keeps this secret even to her father. Gingitsune follows the everyday life of Makoto and Gintaro as they act as mediators for the gods and humans.
Ochiai has launched this manga in the Ultra Jump in 2008, and the publication company Shueisha has published the 8th volume in January. The manga has been adapted into an audio novel in 2010, featuring the voices of Kanae Itou as Makoto and the voice actor Toshihiko Seki. This was produced by Pony Canyon in Japan, which is also the same production company that has registered the official website for the anime project. More details will be added at www.gingitsune.net, the website slated for details and promos for the said series.