Comedy Manga Ai Mai Mi Gets Adapted into Anime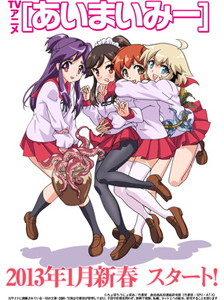 Manga artists probably get the best of reality and fiction. When their minds are drifting away, they enter a new world of their own to be shared to their large pool of readers. These quaint ideas are eagerly stored to be recreated by illustrations, emotions depicted by various lines, and characters come to life even in its two-dimensional form. This kind of artwork has swept the world by storm and no wonder, many are eager to enter this kind of profession to share what different world is in the back of their minds.
Well, here is another manga-themed manga, to be turned into anime! The Japanese publisher Takeshobo had revealed in its newly opened website that Choboraunyopomi's yonkoma manga Ai Mai Mi (あいまいみー) is now being adapted into a new television anime series. This comedy series follows the story of the girls in a manga club, named Ai, Mai, Mi and their leader, Ponoka-sempai. When they are not drawing and illustrating, these girls fight off evil intruders which threatens the earth—sometimes rivaling them in tournaments, found in hallways, and all the other absurd situations which sometimes, only exist in their minds.
Ai Mai Mi is a yonkoma series, a term for four-celled comic strip. This is generally composed of gag situations, illustrated in four panels of equal sized squares from top to bottom. Usually, this style run from right to left, or is illustrated by hybrid 2×2 styles, depending on the publication layout. The yonkoma style does not only exist in Japan, it can also be seen in other countries in different terms.
The Ai Mai Mi manga originally ran in Takeshobo's free Manga Life Win website, with the publication printing the second compiled book volume on October 2011. The television series will be hitting Japan in January 2013.