Additional Cast for Yahari Ore No Seishun Love Come wa Machigatteiru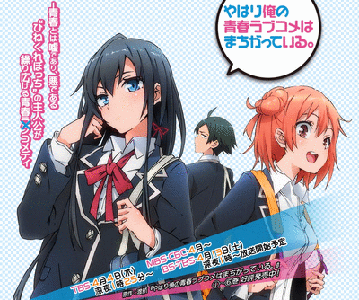 Romance is up the whole spring season as we give you another forecast on an upcoming romantic-comedy anime. Wataru Watari's Yahari Ore No Seishun Love Come wa Machigatteiru (My youth romantic comedy is a mistake as I thought) is coming your way, and its long title makes up for the festive school room fun this new plot offers.
Just recently, additional cast for the story is revealed on its website. Key visuals are also boasting on its updates, with the familiar big-eyed students and the humorous yet pragmatic hero who doesn't look like he's the lead star of the show. The announced cast includes well known voice actors and actresses, including Mai Nakahara as Haruno Yukinoshita, Takashi Kondo as Hayato Hayama, Marina Inoue as Yumiko Miura, Nozomi Sasaki as Hina Ebina and Ami Koshimizu as Saki Kawasaki.
This rom-com series revolves around Hachiman Hikigaya, voiced by Takuya Eguchi. This isolated, friendless boy is a true-blue hikkikomori whose most prominent asset is his lazy dead-fish eyes, as others complemented him. Something happened in the past that made him believe that youth is just a fake joke, created by hypocrites for themselves, making up from the ruins of past mistake.
His distorted view in life made him fire up with a pragmatist view on having a girlfriend or a good job—even in his lifetime dreams. In his current appalling state of dismay comes an eventful turn that will alter his life completely; he is forced to join the Service Club by his adviser with the hope of bringing him out to the world and transform him into a better person. He happens to mean the school's prettiest girl in the same club, Yukino Yukinoshita, who fondly calls him "Hikki."
Ai Yoshimura will be directing the series at the studio Brains Base. Shotaro Suga is handling the scripts and Yuu Shindou is in charge of the character designs. Nagi Yanagi will contribute to the project by singing the opening theme for the series, "Yukitoki."