Zombie Maids Complete Halloween Experience In Japan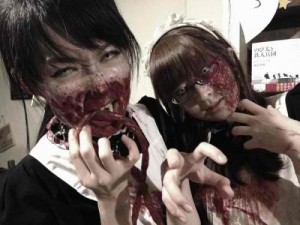 If you've been around in Akihabara from October 25 to 27, chances are you came across the Zombie-themed maid cafe of Schatz Kiste. These lovely zombie maids give a whole new meaning to the Moe! Moe! Kyun! phrase as they take your orders and take care of you while they are covered in blood and gore.
The zombie-themed cafe is part of the Schatz Kiste's Halloween celebration and is already on its fourth year! Aptly named Maid of the Dead 4, Schatz Kiste's maids are zombified and serve Halloween inspired food such as Fizzy Eyeball Juice (complete with eyeball), Double Brain Cheese and even the Indescribable Hot Omelette Rice-Like Thing just to name a few! To top it off, the maids have ran an extra mile with their zombie characters and they have, not only become realistic zombies, but have injected a good amount of moe in it as well.
Schatz Kiste is more than just a traditional maid cafe as the establishment also doubles as a library. Customers can enjoy reading up books found within the confines of the cafe while being waited by the maids. The Schatz Kiste is open daily from 12:00 noon to 10:00 PM with an admission fee of 500 JPY (5.14 USD) for 30 minutes. The fee includes unlimited tea.
If you missed out on this event, not to worry! With the latest zombie maid cafe's success, October 2014 just might be the fifth year of the Schatz Kiste zombie-themed cafe! You can read up more on the Zombie Maid Cafe here.