Yusuke Urameshi Action Figure From Kotobukiya Scheduled For Release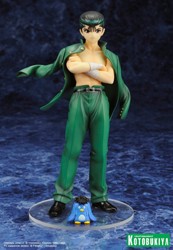 REI GUN!
Yu Yu Hakusho (幽☆遊☆白書) has made its mark forever in the childhood of every 90's otaku and remembering the adventures of Yusuke Urameshi brings a strong wave of nostalgia to every YYH fan.
Japanese Toy Company Kotobukiya has announced that a 1/8 scale figure of Spirit Detective Yusuke Urameshi will be released on October 2012 in North America. The Yusuke figure is part of the Yu Yu Hakusho ARTFX Series. Kotobukiya has previously released Hiei and Kurama under the said series.
Yu Yu Hakusho, literally translated as "Poltergeist Report" is a classic anime that first began as a manga created by Yoshihiro Togashi. Underneath his brash, wild ways, young delinquent Yusuke Urameshi gave up his life to save a child from getting hit by a car. His heroic action attracted the notice of the Underworld; they did not expect Yusuke to die at that moment. Shortly after his death, Yusuke met Botan, a woman who introduced herself as the "Grim Reaper". The Underworld gave Yusuke another chance at life and when he succeeded, with the help of his friends Keiko and Kuwabara, Lord Koenma gives Yusuke the title of "Spirit Detective". With his many adventures, Yusuke meets the demon with the Jagan Eye, Hiei and fox spirit Kurama and together, they protect the world from evil.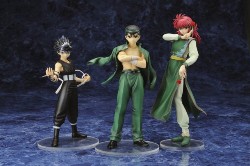 Ijiroh Togitake, the sculptor of the Yusuke figure, brings important attention to detail with his work. The removable green jacket gives Yusuke a very dramatic pose. The figure even comes with the protagonist's adorable spirit beast, Puu! With all three characters present, all the fans will have to do is wait for the Kazuma Kuwabara figure to come out to complete their Yu Yu Hakusho ARTFX figures.