xxxHOLiC Joins List Of Anime With Live-Action Adaptations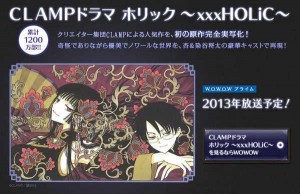 CLAMP's xxxHOLiC (×××ホリック) is making its way from the pages of the manga and the anime world into the real world with a live-action take! Scheduled for release on 2013, Japanese TV station WOWOW (ワウワウ) has confirmed this news on their official website. The live-action take of xxxHOLiC will be part of the 2013 shows lined up in the WOWOW premium satellite network.
xxxHOLiC tells the story of Watanuki Kimihiro (四月一日 君尋), a high school boy who attracts the unwarranted attention of ghosts and spirits. With the spirits invisible to everyone but him, this gets him into trouble in more ways than one. Enter Ichihara Yuko (壱原 侑子), a witch who runs a wish granting shop. Whatever the customer wishes, Yuko will gladly grant it. The wishes, however, come with a price: the customer has to give up something precious in return for a single wish. Watanuki runs across Yuko's shop and asks for his second sight to be removed. Yuko agrees but in payment, Watanuki has to work part-time in her shop.
The major roles of the live-action take has been revealed, with model/actress Anne filling the role of Yuko while Japanese actor and tarento Shota Sometani (染谷 将太) takes the role of Watanuki. The series will be directed by Keisuke Toyoshima (豊島圭介) who is no stranger to horror themed films. With that said, it will be no doubt that xxxHOLiC will be a good television series to look forward to in 2013!
If you could ask Yuko for a wish, what would you ask for?