Wolf Girl & Black Prince Manga Gets An Anime Take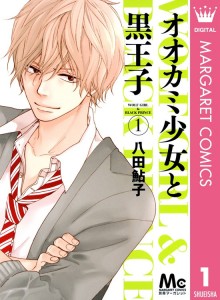 You know the saying bad decisions make great stories? That's what happened to in Erika Shinohara in Wolf Girl & Black Prince (オオカミ少女と黒王子). Hatta Ayuko's (八田鮎子) hit shoujo manga is getting an anime adaptation on the girl who cried wolf and the consequences she's paying.
16-year-old Erika Shinohara has boldly claimed that she has a boyfriend. She boasts to-envy-for love stories about her and her boyfriend to her friends when in fact she never had a single boyfriend in her 16 years of existence. One day, she eyed a handsome boy in town and bold as you please, took a photo of him upfront. As expected, Erika bragged to her friends that the guy in the photo is her beau to back up her claims of not being single. Unfortunately, the lad who turns out to be Sata Kyouya, goes to the same school as she does and he gets wind of her made up tale. Erika was up in a flurry of explanations and proposed that he goes along with the lie. Sata agrees but his charms belly a darker shade of his character. He blackmails Erika into becoming his "dog" or the truth will come out in the open.
Kanae Ito (伊藤 かな恵) who voiced Sword Art Online's (ソードアート・オンライン ) Yui (ユイ) and Dragon Nest (ドラゴンネスト) Japan's Lunaria (ルナリア), will lend her voice to Erika. Takahiro Sakurai (櫻井孝宏), known for voicing Magi's (マギ) Ja'far (ジャーファル) and Naruto Shippuden's (-ナルト- 疾風伝) Sasori (サソリ), will provide the voice for Sata. The official website of the series has already been launched. Click here to pay it a visit!