Vocaloid Turns Into Baked Sea Bream Sweeties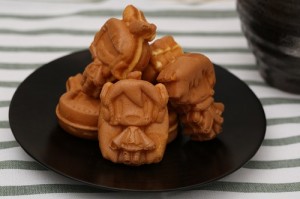 If you're planning to visit Japan, always make it a point to give their traditional sweets a try. Thanks to Flair Trust, the traditional fish-shaped desert called Taiyaki (鯛焼き) gets a very adorable make over as the usual fish turns into the cute super-deformed characters of Vocaloid (ボーカロイド)!
These Vocaloid Taiyaki have been available since April 25 and customers can only get it through the Flair Trust stand in Cospa Asia. The Cospa Asia branch you need to visit to get these Chara-Yaki is in Aeon Mall in Makuhari New City.
Priced at 400 JPY for 8 pieces (3.89 USD) and 800 JPY for 18 pieces (7.79 USD), the Vocaloid Chara-Yaki comes in 6 different characters namely Hatsune Miku (初音ミク), Megurine Luka (巡音ルカ), the twins Rin and Len Kagamine (鏡音リン ・レン), KAITO and MEIKO. If your Chara-Yuki purchase goes beyond 400 JPY, you can get a free bookmark that bears each character. These bookmarks are chosen at random.
Not to be confused with the Takoyaki (たこ焼き), the Taiyaki is a cake that has a sweet filling in it, often sweet azuki beans but can also come in chocolate, cheese and even sweet potato just to name a few.
There is also a Madoka Magica (魔法少女まどか☆マギカ) Chara-Yaki for you to choose from. Another Flair Trust booth will be opened in Gee! Store Osaka Annex in Osaka, Japan on May 2, 2014. For more information, head on down to the Flair Trust website.