Vocaloid Teaches You About Orchestra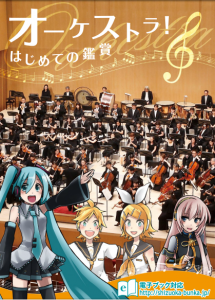 Need a crash course in orchestra? Then let Hatsune Miku (初音ミク) be your guide! Miku, who has enlisted the help of her fellow Vocaloids (ボーカロイド), Megurine Luka (巡音ルカ) and the twins Rin and Len Kagamine (鏡音リン ・レン), are the stars of a manga-styled orchestra guidebook called Orchestra! The First Appreciation (Orchestra! Hajimete no Kanshou).
Orchestra! Hajimete no Kanshou is produced and published by the culture division of the the Shizuoka Prefectural Office with the help and partnership of Vocaloid developer, Crypton Future Media (クリプトン・フューチャー・メディア株式会社). The guidebook, which has 32 pages and is fully colored and illustrated, was created in the hopes of teaching young children as well as people of all ages, to know and appreciate orchestra. After all, the Shizuoka Prefecture is the home of three professional symphony orchestras. 20,000 copies have been distributed in schools from elementary to high school and public libraries in the prefecture.
The creative individuals who have done the art for Orchestra Hajimete no Kanshou are from Shizuoka Manga Lab. Curious? You can grab a digital copy for free (yes, you heard that right!) via the Manga Lab website. Read on and you just might want to sign up for a music class and try out for the orchestra yourself!