Vocaloid In The News Vol. 2: English Software Updates, Petite Collection And A Cool Miku Scooter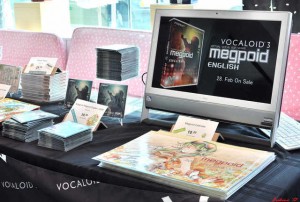 Every living otaku is at least familiar with the greatest singing synthesis known to man as Vocaloid and Asgard brings you Vocaloid (ボーカロイド) In The News with its second volume to let you in on the what's what on Hatsune Miku (初音ミク) and the rest of the gang!
If you've been having problems from the past years from using the Japanese Vocaloid software, worry no more. An English version of the software will be released soon and Vocaloid princess Hatsune Miku, together with rockstar Gumi Megpoid (グミ メグッポイド), will be on the frontline of the Vocaloid English version software. On March 3, 2013, Vocaloid fans were in for a treat thanks to INTERNET. Co. Ltd. by hosting the free VOCALOID 3 Megupoid English Event. The event included a half-hour introduction of the English version of the Vocaloid software starring Gumi as well as a live concert. The event also had Vocaloid goodies for sale to those who want to have a memorabilia of the event. To make things even more drool worthy, fans who attended the event were able to receive free demos of the software! How cool is that?
Not long after, Crypton Future Media has released an official announcement via their website that an English version of the software featuring Hatsune Miku will be released come Summer. The company will be introducing their latest addition to the Vocaloid arsenal to the press, and to die hard Vocaloid fans, on Monday.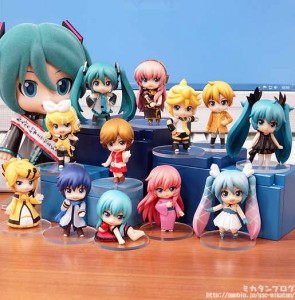 If you missed the special goodies the VOCALOID 3 Megupoid English Event offered, here's still another way for you to fill up for Vocaloid collection. Good Smile Company has released their Miku Selection Set. Composed of 12 adorable little Nendoroid Petites, the Petite Vocaloids come not only in their default costumes but in special versions based on their songs, as well. For instance, Megurine Luka comes in two different versions: the default Luka and the Akahitoha version. Each Nendo is sold at 600 JPY (6.40 USD) each. See if you can identify the other versions!
http://youtu.be/AhZ8yJKGSTA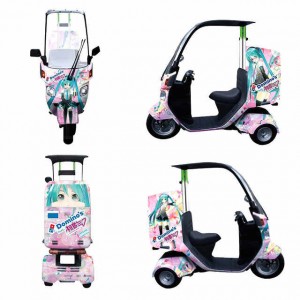 Last, but definitely not the least, is this special Domino's Pizza Japan promotion featuring non-other than Hatsune Miku! With this new Miku Domino's promo, Miku comes in an iOS that helps you, not only order your pizza, but also entertain you while you wait for your order. If you have your pizza delivered, you might be lucky enough to see this special Hatsune Miku X Domino's Pizza scooter which will deliver your pizza right on your doorstep. For more information, head on down to the Domino's Pizza Japan website.
http://youtu.be/gW2D_Votd2Y