Vocaloid Gumi Comes With A Slew Of New Songs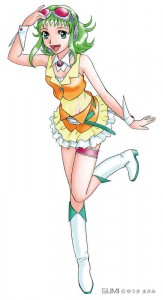 Green-haired Vocaloid Gumi (グミ) has not one but three new songs. The first song is guaranteed to make you grab a tissue. Entitled The Transient Apple Salesgirl (林檎売りの泡沫少女), this song tells the tale of a mortal girl born in a land of immortals. She sells confections made from apples but is treated cruelly by the townsmen until a young boy came and changed her life. The Transient Apple Salesgirl is the 300th video subbed by resident Youtube Vocaloid translator, vgperson. The video was last uploaded on November 16, 2012 and has currently garnered 3673 songs with 428 likes and counting. vgperson added a small detail on the video that still has a huge impact on the video on the About section of the video:
"A slight detail: when 'hanashi' (tale) is said in reference to the girl/boy, the 'shi' is fully pronounced, but when used for everyone else, it sounds more like 'hanash'. 'Shi' means death."
http://youtu.be/6Xuo0u_UK-U
Another Gumi offering is called High School Hero (高校生勇者). Also uploaded on the same date as the Transcient Apple Girl but by a different Youtube user called Novaxc, High School Hero is a song that gets your head banging. The story of the video draws in viewers as the song plays and reveals more beautifully drawn comic book art. High School Hero currently has 368 views with 36 likes and counting.
http://youtu.be/noMgWOxmXGA
The last and third song is also uploaded by Novaxc entitled Dance with Enemy. The 4 minute video is also a rock song but with an RPG-like ring to the song. Get your Gumi fix now!
http://youtu.be/W9C7N8qAGuI