Utada Hikaru Sings Evangelion 3.0 Theme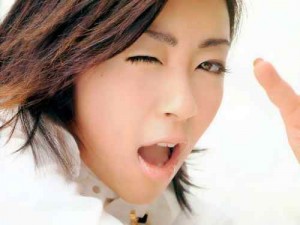 Famous Japanese singer Utada Hikaru (宇多田 ヒカル) is back and this time, she's providing the theme song for the most awaited Evangelion movie, Evangelion: 3.0 You Can (Not) Redo (ヱヴァンゲリヲン新劇場版:Q Quickening).
Utada's single entitled Sakura Nagashi (桜流し) was used as the latest Evangelion movie's theme. The song lasts for nearly 5 minutes and is the first song since the singer's November 2010 song, Goodbye Happiness. Utada came back to the music scene thanks to an offer made by the movie's producers, and of course, her love for the anime/manga franchise.
Born on January 19, 1983, Utada was born in Manhattan, New York City. The only child of Japanese record producer Teruzane Utada (宇多田 照實) and his wife, enka singer Junko Utada (宇多田 純子) had a natural talent for singing. Utada first made her appearance in the music industry as a member of U3. Later on, she did solo projects and soon became a huge success. Her first singles, Automatic/Time Will Tell and Movin' on Without You, were sold by the millions. Her first album entitled First Love sold over 10 million copies. In 2004, Utada dabbled in the international music scene with her album, Exodus, with the carrier single Easy Breezy. Utada traveled from Japan to America and back in between 2005 to 2010. Around 2010, Utada announced in her personal blog that the singer would be taking an indefinite leave in 2011, leaving the world with Goodbye Happiness and a series of short concerts before her much needed rest.
Although the Eva theme Sakura Nagashi is already available for digital download, it has been announced that it will also be available as a DVD single scheduled for release on Decemeber 26, 2012 with Evangelion manga author Yoshiyuki Sadamoto responsible for the cover art.
http://youtu.be/JWLGEU5cfd8