UltraMom Helps In Promoting Department Store Sale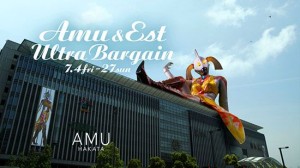 When it comes to promoting mall events such as sales, models are needed to rake in customers. In the case of the AMU Plaza Hakata, Mother of Ultra (ウルトラの母), Marie (マリー), takes the stage and struts her stuff along with three helpful kaiju (怪獣) to help promote AMU Plaza Hakata's Summer Sale.
The AMU Plaza Hakata has named and themed their Summer Sale as AMU Ultra Bargain. A series of promotional videos have been released showing Ultramom doing her thing – donning her yellow-and-red swimsuit while dancing and posing for the camera.
First introduced in the debut episode of Ultraman Taro (ウルトラマンタロウ), Mother of Ultra is an important figure in the Ultraman (ウルトラマン) universe because she is not only Taro and Ultraman Ace's (ウルトラマンA) mom and Father of Ultra's (ウルトラの父) wife but she's also the team medic. She comes down to Earth to help Taro fight his battles and heal him if needed. Mother of Ultra is also responsible for reviving fallen allies including Kotaro Higashi (東光太郎) who was killed by a monster and was ultimately reborn as Ultraman Taro.
Check out the videos below and head on down to the AMU Plaza Hakata so you can take part of their Summer Sale!
http://youtu.be/9G_8avVAO7g
http://youtu.be/lf_IBcBA_kg