Rurouni Kenshin: Kansei – The Ultimate RK Fan's Button Mashing Game Dream Come True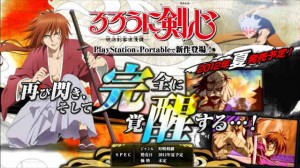 August is just around the corner and adding to the fans excitement over the Rurouni Kenshin Live-Action Movie starring Takeru Sato (佐藤健) and Emi Takei (武井咲) is the release of the latest Rurouni Kenshin video game installment, Rurouni Kenshin: Meiji Kenkaku Romantan – Kansei.
Rurouni Kenshin (るろうに剣心) is no stranger to the world of fighting type video games. 1996 was the year when the first RK video game was released. Rurouni Kenshin: Meiji Kenkaku Romantan – Ishin Gekitohen (るろうに剣心 -明治剣客浪漫譚- 維新激闘編) focused on the early chapters of the manga or episodes of the anime with only 5 playable characters. A year later, Ishin Gekitohen was followed by Rurouni Kenshin: Meiji Kenkaku Romantan – Juyushi Inbo Hen (るろうに剣心 -明治剣客浪漫譚- 十勇士陰謀編). Still on the Sony Playstation, Juyushi Inbo Hen is a role-playing game (RPG) with a separate storyline from both the anime and manga franchise. Unfortunately, these games never made it out of Japan. Fast forward to 2006 and the Rurouni Kenshin video game franchise released their third game: Rurouni Kenshin: Meiji Kenkaku Romantan: Enjo! Kyoto Rinne (るろうに剣心 -明治剣客浪漫譚- 炎上!京都輪廻). Enjo! Kyoto Rinne was the only RK game set for the Playstation 2 but its platform limitation was little compared to its success as it sold over 130,000 copies in Japan alone.
Rurouni Kenshin: Meiji Kenkaku Romantan Saisen (るろうに剣心 -明治剣客浪漫譚- 再閃) was released on 2011 for the Playstation Portable (PSP). Saisen has 24 playable characters, including Kenshin Himura as the gentle wanderer or the feared Hitokiri Battousai. On August 30, 2012, RK fans will finally get the chance to grab their own copies of Kansei. Kansei is the successor of Saisen and will feature over 30 playable characters. If that's not enough to get you hyped up for the game, check out the video below to see the droolworthy promotional video.
http://youtu.be/a6fPJFOqLig