Tsubasa Honda Rules Over Shonen Jump For A Day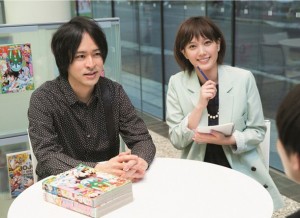 Tsubasa Honda (本田翼) has got quite her hands full and who wouldn't be surprised? This talented Japanese girl works as a model and actress. Add up to her line of work is managing famous manga compilation Weekly Shonen Jump (週刊少年ジャンプ)… at least for a day. This idea came about thanks to fashion magazine Non-no (ノン-ノ).
In the June issue of Non-no, Tsubasa Honda modeled for a segment called "What if Tsubasa Was The New Manga Editor at Weekly Shonen Jump? Fashion Show 14 Days." With that said, Honda was photographed wearing 14 days worth of clothing fit for going to the office as the Editor-in-Chief for Weekly Shonen Jump. This opportunity also gave Honda a chance to talk with Yusei Matsui (松井優征), the creator of the hit Weekly Shonen Jump manga, Assassin Classroom (暗殺教室). This experience has taught Honda the basic behind-the-scenes look of manga is born and admittedly has asked a lot. She also learned interesting facts about Matsui.
Born on June 27, 1992 in Tokyo, Japan, Tsubasa Honda first made her debut as a model in Seventeen (セブンティーン) in 2006. Honda's talent for acting was highly praised when she appeared in the popular TV series Akayashi Sanma no Zutto Anata ga Suki Datta and has been asked frequently after that.