Tomoko's Wedding Night Freak-Out Now On A Pillow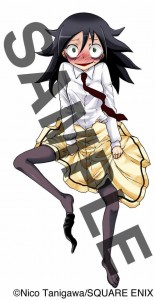 How would you like to have a hugging pillow with a girl who looks crazed over her imagined wedding night? If you want one, it's easy as 1-2-3 since this pillow is up for grabs as a contest prize!
Tomoko "Mokocchi" Kuroki stars in the slice-of-life comedy manga entitled Watashi ga Motenai no wa Dou Kangaete mo Omaera ga Warui! (No Matter How You Think About It, It's Your Fault I'm not Popular!). Shortened into WataMote, Nico Tanigawa's manga revolves around Tomoko Kuroki who has 50 years of dating experience and 100 boys… At least in an Otome video game. Truth be told, Tomoko is only a 15-year-old girl who has the requirements that can pass for a perfect mojo, otherwise known as a creepy woman.
Believing herself to be prepared for high school romance after playing too much Otome video games, Tomoko gets the surprise of her life when she finds out that romance found in video games is different in real life.
The special Tomoko hugging pillow is a giveaway in celebration of the manga's third volume on Saturday. Square Enix, the publishing company behind WataMote, will be giving away 100 Tomoko pillows with these simple instructions: contestants should collect and mail two stubs from the manga jacket of WataMote and any of the following manga titles which will also be released on Saturday: +Tic Elder Sister, Cafe Detective Club and Haru ni Naru to Uzuuzu Shichau.
If you want to be part of the lucky 100 winners who will bag this pillow, wait for the release of the manga's third volume! Click here for more information on the said contest.