Tokyo International Airport Opens Hatsune Miku Shop For Limited Time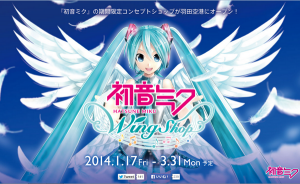 The best part about travelling is that you grab yourself some souvenirs and tokens that will remind you of the places you have visited. Now, if you happen to be a Vocaloid (ボーカロイド) and will be visiting Japan for the first time, do not, and I do swear DO NOT miss out on visiting the Hatsune Miku Wing Shop (初音ミク ウイングショップ).
Aptly named Wing Shop, the store is located in Tokyo International Airport (東京国際空港) and will have two branches located in the same establishment. The first found in Terminal 1's departure lobby while its sister shop is situated in the International Terminal, specifically on the fifth floor. So what sort of Items are sold in the Miku Wing Shop? The stores are completely decked out with Hatsune Miku (初音ミク) items. To make things much more interesting, the Wing Shops have limited edition airport items. What currently comes to mind are Miku items that are flight stewardess garb, although no Miku airport items have been shown yet.
The Hatsune Miku Wing Shop is an awesome collaboration made between Crypton Future Media and Sony Music Communications and will be open for a limited time only, starting on January 17 until March 31, 2014 only. Read up more on the Miku Wing Shop here.