Tiger & Bunny In The News: Flyers, Figures And Figures With Chewing Gum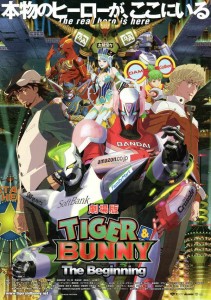 Sunrise, Inc. (株式会社サンライズ) isn't only known for the Gundam Series (ガンダムシリーズ), Cowboy Bebop (カウボーイビバップ), City Hunter (シティーハンター) and the Vision of Escaflowne (天空のエスカフローネ). One of Sunrise's critically acclaimed offering is 2011's Tiger & Bunny (タイガー&バニー).
This futuristic, superhero themed series tells the story of Kotetsu T. Kaburagi (鏑木・T・虎徹), a.k.a Wild Tiger (ワイルドタイガー) and Barnaby Brooks, Jr. (バーナビー・ブルックスJr.) who work together despite their differences in ideals of what heroes should really be like. There are a lot of heroes NC 1978 has to offer and these heroes represent different sponsor companies (which also happens to advertise real life companies). Their heroic activities are broadcasted via Hero TV and are given points. The hero with the most points wins and earns the title of "King of Heroes".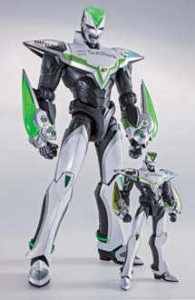 Flyers have already been distributed for the Tiger & Bunny film. Tiger & Bunny – The Beginning is part of the Fall Anime line up, together with other anime titles such as Macross FB7: Ore no Uta o Kike!, Smile Precure!: Ehon no Naka wa Minna Chiguhagu and Evangelion 3.0: You Can(not) Redo. It will be released on September 22, 2012.
Bandai has recently included 12 Inch Perfect Model collection to their array of collectible figures. To kick start their new line of figures, Bandai has released 12 inch versions of C3PO from Star Wars and of course, Wild Tiger from Tiger and Bunny. The foot long Wild Tiger model will be released on December but is already priced at 26,250 JPY (333.50 USD).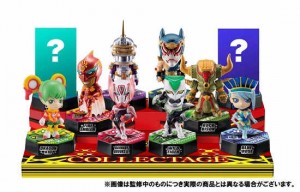 Bandai just gave you another reason to collect figures and enjoy a piece of candy or two with their latest Bandai Candy Toy line entry! Tiger & Bunny go chibi for COLLECTAGE. These figures are 45mm tall and are made out of PVC. Their bases are colored stages and each come with chewing gum. The Tiger & Bunny COLLECTAGE figures are each sold at 399 JPY (5.06 USD) and will be released on November 2012.