Tentacle Grape Needs All Hands On Deck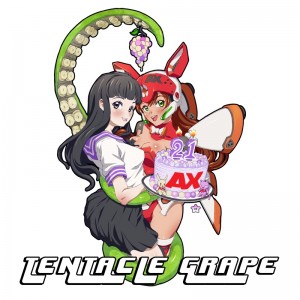 It looks like the internet meme "I've seen too much Hentai to know where this is going" has spawned a very wholesome and thirst-quenching drink in the form of the Tentacle Grape Soda. Over the years, Tentacle Grape has been a huge hit over anime conventions because of its unique grape taste and its ingenious theme. Because Tentacle Grape is worthy to be shared throughout the world, the great people behind this purple drink need all hands on deck for the improvement of this magical potion.
Tentacle Grape is working to raise 20,000 USD in order to make their carrier drink available to more locations. The 20,000 USD budget will be used by the team, as featured on their Indiegogo website, as follows:
Reformulate Tentacle Grape to be made with natural ingredients such as cane sugar instead of high fructose corn syrup. This will also open up more international markets for us such as the UK and Japan who have strict import laws.
Create lighter, stronger and safer packaging, so that shipping to both retailers, and customers can be lowered.
Bring Tentacle Grape to more conventions and stock more retail locations.
If you're going to pitch in, there are incentives you can get, even if you will just donate a single dollar! Read up more on Tentacle Grape Soda over at Indiegogo and help bring this drink to greater heights!