Tengen Toppa Gurren Lagann BD-Box Already Out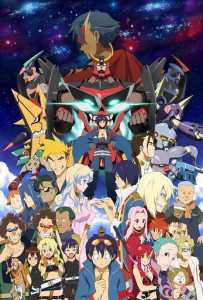 Fans of the anime Tengen Toppa Gurren Lagann (天元突破グレンラガン) can now rest easy from their nostalgia attacks with this awesome special Blu-Ray boxed set! After a list of Japanese retailers have been revealed, the specifications of the boxed set followed ensuite.
Tengen Toppa Gurren Lagann isn't your ordinary mecha anime. Simon (シモン) is a lonely digger who finds friendship in Kamina (カミナ) in a place ruled by the Spiral King. Kamina takes Simon under his wing, thus making him a member of Team Gurren. When Simon discovered the Core Drill, a gigantic Gunman emerged and began to destroy their village. A young girl named Yoko Littner (ヨーコ・リットナー) appeared and tried to take the Gunman. It was Simon, however, who brought the Gunman down with the use of the Core Drill.
The Tengen Toppa Gurren Lagann special boxed set isn't easy on the pocket; it is priced at a hefty sum of 63,000 JPY (730 USD). The price, however, might make up for the goodies inside it. The boxed set contains 15 discs, 10 Blu-Ray and 5 audio cds. The cds that contain the videos features the complete 27 episode TV anime series, 2 movies, 2 works feature and video features just to name a few. The audio cd boasts drama cds as well as a brand new story from Kazumi Nakashima (中島かずき). To top it off, this boxed set also includes special books, one of which is an illustration book.
Ready to make your order? Click here so you can get redirected to Sofmap so you can get your own special Tengen Toppa Gurren Lagann BD-Box!