Tekken Tag 2 In The News: 6 New Fighters, A Kotobukiya Figure And The Mushroom Battle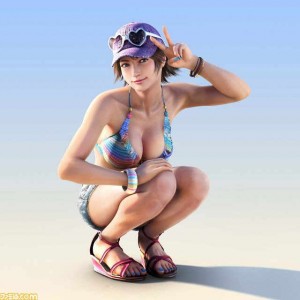 GET READY FOR THE NEXT BATTLE!
Tekken Tag Tournament 2 (鉄拳タッグトーナメント2) is blazing in the video game world as the highly anticipated noncanonical game makes every player live their dream team matches. Starting off this Tekken Tag 2 special, Asgard brings you the latest news, starting off with the 6 new additional fighters.
On October 9, Namco's (株式会社ナムコ) sequential free update adds 6 new fighters to your roster of characters. These fighters include old characters such as Tekken 3's Dr. Boskonovitch (ドクター・ボスコノビッチ) and Tekken 4's Miharu Hirano (平野 美晴) and purple-haired Violet who happens to be Lee Chaolan (李 超狼). To the surprise of everyone, Lili Rochefort's (エミリ・ロシュフォール) butler, Sebastian (セバスチャン), joins in on the fray, along with Bob's (ボブ) post tournament version, Slim Bob. Fans of the Jun Kazama tag tournament story will be delighted to know that Unknown (アンノウン) will be available for download on the same day, completing the list of the 6 new fighters.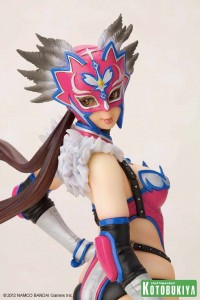 Jaycee (ジェイシー) is the latest addition to the Kotobukiya bishoujo statue line. This beautiful figure stands over 8 inches tall on a 1/7 scale and was sculpted by Takaboku Busujima, also known as Busujimax (ブスジマックス). Jaycee comes with an interchangeable head: a masked luchadora and a maskless Julia Chang (ジュリア・チャン). The Kotobukiya bishoujo Jaycee figure is a perfect addition to a Tekken fan's collection. Jaycee will be available for purchase on March 2013.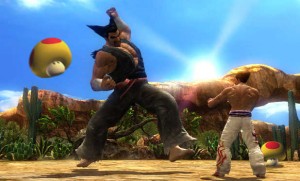 Tekken Tag 2 has hit many consoles, including the Nintendo Wii U. What sets apart the Tekken Tag Tournament 2: Wii U Edition from the other console versions is the Mushroom Battle. In the Mushroom Battle mode, Nintendo injects their signature Super Mario Bros. (スーパーマリオブラザーズ) mushrooms and power-ups into the game which makes it even more interesting. Players can also dress up as their favorite Nintendo characters such Link and Zelda from The Legend of Zelda, Star Fox and Metroid just to name a few. Tekken Tag Tournament 2: Wii U Edition will be available on Winter 2012. Check out the video below to see the Mushroom Battle mayhem!