Tekken Adds Narcoleptic Vampire Into The Roster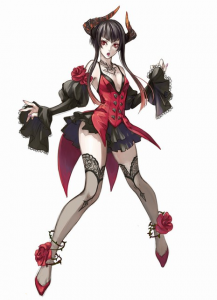 Tekken (鉄拳) has given us school girls, animals that can stand and fight on two legs and even grandpas that still got what it takes to knock an opponent out. It was the fighters spawned from myth that brought out the mysterious and captivating aura that the game presents with Devil (デビル), Unknown (アンノウン) and even Mokujin (木人). Enter another mythical creature that, not only has got the looks, but the deadly skills as well. Say hello Eliza (エリザ) the Vampire.
Eliza was added into the Tekken fray as a playable character for the latest Tekken entry, Tekken Revolution (鉄拳レボリューション), after winning in a Tekken poll conducted during the San Diego Comic Con. Initially called the "Sexy Vampire", Eliza was given her name on December 11, 2013 and is the first character noted for freely using projectile skills. The official Tekken Facebook page has announced that Eliza will be available on the next update.
What else is there to know about Eliza? While she is currently swathed in mystery, Eliza was known to be imprisoned by the Rochefort (ロシュフォール) family for a very long time. Possibly over a thousand years of age, Eliza crawled into her coffin for a short nap but woke up thousand years after and has trouble controlling her sleepiness – even while in the midst of a match. If you look more closely, Eliza's bust size increases after consuming her enemy's blood. Check out Eliza's gameplay below and make sure you get your Tekken Revolution update!
Wonder how Lili (リリ) feels about this…