Tao Tsuchiya Steps Up To The Rurouni Kenshin Plate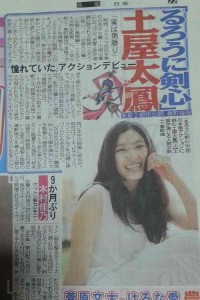 If the first Rurouni Kenshin live-action movie has left a great impression on you, wait until the second movie comes out! The cast has already been revealed and according to Japanese newspaper, Sports Hochi, Tao Tsuchiya (つちや たお) will be filling in the shoes of the young kunoichi, Misao Makimachi (巻町 操).
Born on February 3, 1995, the 18-year-old actress hails from Tokyo, Japan. While Tsuchiya is no stranger to acting (Tsuchiya having first appeared in the 2008 film, Tokyo Sonata), Misao Makimachi is Tsuchiya's first ever action role and has reportedly been doing her own stunts. While the shooting continues, Tsuchiya trains everyday for her role as the Kyoto Arc's feisty little ninja girl. Just where did she get this gung-ho energy that's so Misao? Apparently, the actress was so taken with the first Rurouni Kenshin movie that she auditioned for the second film and landed a role!
In the Rurouni Kenshin franchise, Misao Makimachi is a 16-year-old ninja whose weapon of choice is a kunai. The most recent Rurouni Kenshin OVAs, Rurouni Kenshin: New Kyoto Arc: The Cage of Flames (焔の獄(ホムラのオリ)and Rurouni Kenshin: New Kyoto Arc: The Chirps of Light (光の囀(ヒカリのサエズリ were all shown from Misao's point of view.
Takeru Sato (佐藤 健), Emi Takei (武井 咲), Munetaka Aoki (青木崇高), Yuu Aoi (蒼井 優) and Yosuke Eguchi (江口洋介) returns in the second film as Kenshin Himura (緋村 剣心), Kaoru Kamiya (神谷 薫), Sanosuke Sagara (相楽 左之助), Megumi Takani (高荷 恵) and Saito Hajime (斎藤 一) respectively.
Yusuke Iseya (伊勢谷 友介) takes up the kodachi as Aoshi Shinomori (四乃森 蒼紫) with Min Tanaka (田中泯) taking on the role of Kashiwazaki Nenji (柏崎 念至), more commonly known as Okina (翁). On the Juppon Gatana side of things, the Mugenjin (無限刃) is wielded by Tatsuya Fujiwara (藤原 竜也) as Shishio Makoto (志々雄 真実). His lady love, Yumi Komagata (駒形 由美), is filled in by the beautiful Maryjun Takasahi (高橋 メアリージュン). The role of Shishio's perpetually smiling right-hand man, Sojiro Seta (瀬田 宗次郎), is taken by Ryunosuke Kamiki (神木隆之介).
Unfortunately, Taketo Tanaka (田中偉登) won't be returning in the second film as Yahiko Myojin (明神 弥彦) but will be replaced by Kaito Oyagi (大八木凱斗). And who could ever forget the sword hunter with the hair that can rival that of Sanosuke's, Cho Sawagejo (沢下条 張)? Cho's role is taken by Ryosuke Miura (三浦 涼介).
If Tsuchiya doesn't look like Misao already, wait until we see her in action! More Rurouni Kenshin news are on your way so stay tuned to Asgard Anime!