Tamagotchi Now Available For Android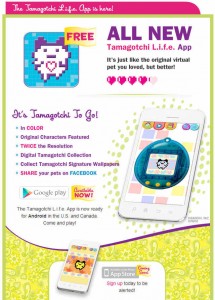 Tamagotchi (たまごっち) celebrates its Sweet 16 in the toys and games industry by having its own Android App version!
The world famous game that started the virtual pet craze began in 1996, thanks to a collaboration between WiZ's Akihiro Yokoi and Bandai's Aki Maita. The original Tamagotchi comes in a handy, little egg-shaped device which houses the digital pet inside it. The name comes from the Japanese word tamago which means egg and the English word watch.
The rule of the game is simple: raise your Tamagotchi like a real, live pet, starting from the day it is born or else it will die. The original Tamagotchis came in different species (and in different egg colors and designs) including puppies, chickens and dinosaurs until Bandai came up with their original Tamagotchi characters.
Fast forward to 2013 and Tamagotchi has officially celebrated its 16 year anniversary in the industry. With that said, Namco Bandai games now has an Android app called Tamagotchi L.i.f.e. (Love is Fun Everywhere). An iOS version of the Tamagotchi L.i.f.e will be available soon. In the mean time, check out this video below and don't forget to visit Google Play to get Tamagotchi L.i.f.e on your Android unit! Did we mention that this app is free to download?
http://youtu.be/hsB9ZYYFgi4